Searching for Ammunition

AmmoSeek allows you to search numerous online retailers for in-stock ammunition all from one place. AmmoSeek only lists in-stock items, and at times of high-demand in the market, we will also list backorderable products.

Our ammunition can be searched in 5 different ways and within 4 different sub-categories. They are:
All ammo by caliber
Handgun
Rifle
Rimfire
Shotgun.
We support over 350 calibers. A full list of our calibers can be found here: http://ammoseek.com/calibers/
Quick Methods

Search Ammo By Caliber
Start typing a caliber in the search box, and select a caliber that comes up to jump straight to those search results. Note that this is for searching for ammunition only!
Quick Seek Button
If your caliber is one of the most popular, click on one of the Quick Seek buttons (Desktop Only for now).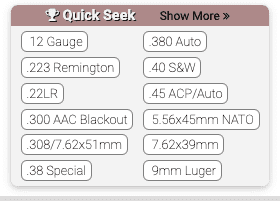 Use the Search Form

Choose Your Ammo Type
From the main ammunition search page select the Ammo tab in the center panel, and then the ammo type (Handgun, Rifle, Rimfire, or Shotgun).
Then specify your search options in the search form that is loaded upon selection.
Ammo Search Options
Caliber

Most commonly, when searching for ammunition, you should choose a caliber that matches your firearm. Our search engine supports over 350 calibers.
Manufacturer

If you are looking for a specific brand, you can select it from the Manufacturer pulldown menu.
Shot Size (Shotgun Only)

To search for a specific shot size, use the Shot Size pulldown menu.
Shell Length (Shotgun Only)

To search for a specific shell length, use the Shell Length pulldown menu.
Grains

If you're looking for ammo with a specific number of grains, use the Grains pulldown menu. If the number of grains is not listed in the pulldown, it means that for the caliber you have selected, no ammunition with that number of grains is for sale at any of the sites we search.
Include/Exclude Keywords

Refine your search by including or excluding keywords.
Number of rounds

This pulldown allows you to select lot sizes, in case you wish to only be shown a box of 20 rounds, a case of 1000 rounds, or a range in between.
Show/Hide products with purchase limits

By default, we will not hide products with purchase limits. If you wish to do so, select Hide items with purchase limits from the pulldown menu.
Condition: include/exclude remanufactured ammunition

By default, we will include remanufactured ammo in the search results. If you wish to exclude remanufactured ammo, select Factory new ammunition only from the pulldown menu.
Casing

By default, we will not filter on the type of ammo casing. If you wish to search for only ammo with a certain type of casing (brass, steel, aluminum, etc.), select the type from the pulldown menu.
Shipping Rating

We rate each retailer on how expensive their shipping charges tend to be, giving them a rating on a scale from High to Low. (See details on our Shipping Estimation. By default, we will not filter the search results based on the retailer's shipping rating. If you wish, you can exclude results from retailers with "Average" shipping costs or higher.
Include Blanks

By default, we will exclude blank ammunition from the search results. If you wish to include blanks, select Yes, show blanks from the pulldown menu.
Sorting

By default, the search results will be sorted by the least expensive per round. If you'd like to sort some other way, change the sort method from the Sort pulldown menu.